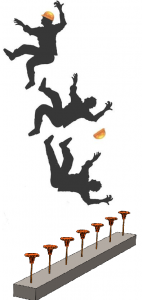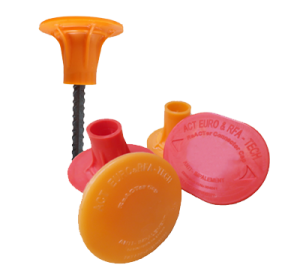 To put all this in perspective. OSHA statistics found that in a little less than 20 years 61% of American construction accidents were due to impalement from reinforcement.
ACT now to prevent injury
ACT now to protect your workforce
ACT now to make the construction industry a safer environment for all
The new Anti- Impalement ReACTer Safety Cap is the next generation of protection for your workforce.
The ReACTer Cap has been designed with safety in mind for workers in the Construction industry which is one of the most dangerous sectors. It protects from impalement injuries on rebars if fallen on from a height of up to 5m.
The ReACTer Cap works in two different but complementary ways which results in the Velocity Reduction Zone.
Firstly the patented inner flutes reduce the speed the cap is pushed down onto the rebar.
Secondly the ribs and ridge underneath the head dissipate the impact force by flexing and directing the force over the sides of the cap.
The ReACTer Cap is available in sizes – Rebar Size 8 – 16mm & 16-32mm
Save lives, save costs and save time – the benefits of the ReACTer Cap

The Cap exceeds the globally used CAL OSHA specification by 66% on drop height and 10% on weight resulting in peace of mind that the workforce is protected from potential injury sustained on a rebar.

As part of our commitment to continually seek to offer our customers new and innovative products, ACT has been working to find a proven solution for protecting your workforce from the danger of impalement by reinforcement starter bars on construction sites.

It is our belief that there is no other product on the market in the UK that can offer the level of protection given by the ReACTer Cap.

At the moment there is no British Standard for a Rebar Safety Cap. However, due to the increase in the number of fall impalement accidents in USA resulting in either serious injury or death, the California Occupational Safety and Health Regulations (CAL/OSHA) have formulated the Code of Regulation 1926.701(b) Reinforcing steel. (Which says) "All protruding reinforcing steel, onto and into which employees could fall, shall be guarded to eliminate the hazard of impalement."

From this, they introduced the testing and specification standards California Regs (OSHA) – 344.90 Impalement protection specifications and testing criteria.

This specifies drop test specifications for an anti-impalement safety cap which can be approved for working at a height of 2.3 metres. These specifications are the only ones used throughout the USA and also acknowledged as the only method of testing in Europe, Australia and New Zealand.

The ReACTer Cap has been designed to and tested to exceed these requirements, with the tests being witnessed by an independent UKAS and ANSI accredited testing laboratory.

As a result, the ReACTer Cap will protect your workforce from impalement injuries on reinforcement starter bars should they be unfortunate enough to fall on them, from a height of up to 5metres with the VRZ System.

Avoid potentially fatal injuries and broken limbs to just bruising from a height of up to 5m resulting in a reduction of lost time through injury.

No superficial steel components are used to avoid any consequential injuries.

Provided the caps have not been damaged they are easily reusable which saves on site costs.

Using a fully patented design results in a reliable and robust product every time you order.

ReACTer Anti-Impalement Safety Caps with our "VRZ System" (Velocity Reduction Zone)
Benefits

| | |
| --- | --- |
| | Designed to meet and exceed the California Regs. (OSHA) specification. |
| | Product specification that exceeds this globally used specification by 66% on drop height and 10% on weight. |
| | Product testing witnessed by an independent UKAS and ANSI accredited testing laboratory. |
| | Will prevent potentially fatal reinforcement penetration injuries from heights of up to 5 metres. |
| | Providing not damaged in an accident they are quickly reclaimable and are safe to re-use, saving on-site costs. |
| | More cost-effective than alternative systems available on the market. |
| | Both patent (AU2014900306/AU2014900313) & design (AU354641) have been applied for, ensuring you get the same reliable, robust product every time you order. |
| | Available to provide protection on all standard sizes of reinforcement. |
| | High visibility orange caps. |
| | Does not require any untested third party components to complete the system. |
| | Manufactured and distributed in the UK, ensuring rapid technical response and delivery. |

The ACT ReACTer Cap is visually and physically quite unique.